Breaking barriers: Realizing Dreams Foundation provides financial support and mentoring to underprivileged students for a brighter future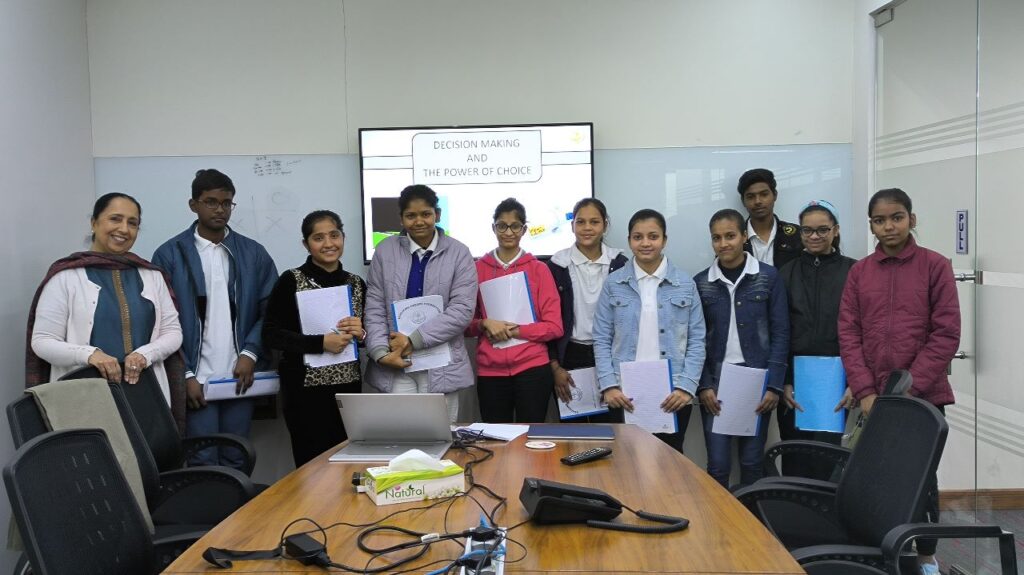 Realizing Dreams Foundation, a Gurgaon-based charitable trust, is making a significant impact in the lives of underprivileged students by providing them with quality education. Since its inception, the Foundation has supported 25 students financially, paying for their school fees and books from class 8th until they complete class 12th. The Foundation's efforts have helped 7 students pursue higher education and vocational training to achieve their dream jobs.
According to the National Sample Survey Office (NSSO) report, only 24% of students from economically weaker sections in India complete their education beyond class 10th. The Realizing Dreams Foundation is addressing this gap by providing financial assistance to students from families with an annual income of less than Rs. 3 Lakhs, enabling them to continue their education without any financial burden.
Mrs. Inderbir (Binny) Kalsi, the Managing Trustee of the Realizing Dreams Foundation, is an Educationist by profession. She believes that education is the best means of empowering students and making a difference in their lives. "We want to ensure that children from underprivileged backgrounds have access to quality education and can fulfill their dreams. Our mission is to support and encourage them to achieve their full potential," she said.
Apart from financial assistance, the Foundation conducts special monthly sessions to build life skills in these students. These sessions help them become more confident and better human beings, enhancing their chances of employability in the future life. The Foundation also provides 1-1 mentoring sessions to guide students in their future career choices.
The Foundation works closely with schools to identify students who are in need of financial assistance and enable them to continue their education without much financial burden on the parents. The Foundation's efforts have already made a significant impact on the lives of the students they have supported. As a result of their assistance, many students have been able to complete their education and pursue their dreams.
The Realizing Dreams Foundation plans to increase its support from 16 students in the previous academic year to 25 students in the current session 2023-24. Enrolments are in progress, and Foundation aims to support over 100 students every year in the near future with the support of like-minded individuals.
In conclusion, the Realizing Dreams Foundation's commitment to providing quality education to underprivileged students is commendable. With their support, these students have the opportunity to fulfill their dreams and achieve their full potential. The Foundation's efforts are making a significant impact on the lives of the students they have supported, and with the support of others, they can continue to empower many more students in the future.
Here list of selected students for 2023 -34
| | | | |
| --- | --- | --- | --- |
| Name of Students | Age | School Name | Area |
| Anshika Khatana | 14 | R.B.SM public school, Bhondsi Gurugram HR | Behlpa – Gurugram |
| Jyoti Chauhan | 16 | Vidya Niketan convent school Wazirabad | Wazirabad – Gurugram |
| Karishma | 14 | Bal Bharti Sr Sec. School | Sehjawas -Gurugram |
| Parth Kashyap | 15 | SB Public school | Sikanderpur – Gurugram |
| Rae Chau al | 17 | CD International School marutikun | Maruti Kun -Guru ram |
| Rakhi Pandey | 16 | New light Public school and choma village | Palam Vihar- Gurugram |
| Shreya | 18 | Sri Chaitan techno school sec 43, Gurugram | Sikanderpur – Gurugram |
| Tina | 14 | Jiwan Jvoti senior secondary school | Swaroop Garden -Gurugram |
| Abhishek Oraon | 16 | SB Public School Chakkarpur Gurugram | Chakkarpur – Gurugram |
| Arpita Mourwa | 15 | Angels Palace International School address: | Khaika -Gurugram |
| Koma' | 13 | SD Adarsh Vidyalya Sector 47 Sohna Road | Sector-51 – Gurugram |
| Privanshi | 15 | Acme international school Sohna Haryana | Alipur – Gurugram |
| Rashi Khatana | 13 | R.B.S.M public school, Bhondsi Gurugram HR | Behlpa -Gurugram |
| Srishti Bisht | 14 | Akash public school | Choma – Gurugram |
| Ahan Singh | 14 | SB Public School | Nathupur – Gurugram |
| Kajal Rai | 15 | SB Public School | Sikandarpur – Gurugram |
| Anjali | 13 | Lady Florence Convent School | Krishna Nagar -Gurugram |
| Arvan Rai | 15 | SB Public School | Nathupur – Gurugram |
| Ashutosh Jena | 15 | SB Public School | Sikanderpur – Gurugram |
| Vikash Yadav | 18 | SB Public School | Sikanderpur – Gurugram |
| Sagar Mishra | 15 | SB Public School | Gurudronacharva – Gurugram |
| Shahnawaj | 12 | R.M. Public School | Jharsa -Gurugram |
| Shiwani | 17 | Kendriva Vidvala Sangthan | Ferozerpur Kala -Feridabad |
| Yashu | 16 | Tagore Public School | Sector48 – Gurugram |
About Author