Best Music Producer, Mixing And Mastering Engineer. – R. Nitish Kumar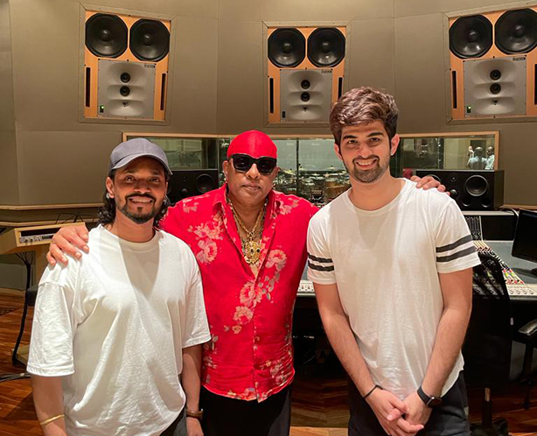 R Nitish Kumar is a Renowned Music Producer & Mixing Mastering Engineer in the Indian Film Industry since 2009 year.
He is an award winner and 5 times nominee in all the Music Awards for Films like Rockstar, 127 Hours, 100 feet Journey, Million Dollar Arm, Ranjhanaa, Jab Tak Hai Jaan & Tamasha has been associated closely with Double Oscar & Grammy winner.
Mr. A R Rahman.
He is a primary engineer to Mr. A R Rahman, Nitish holds a very good reputation amongst all the producers and singers in the entertainment industry.
His Education –
His Schooling was from St Georges School – Delhi
Masters in Recording Arts from School of Audio Engineering (Australia & India)
He believes that "Music has evolved alongside the films we watch every day and this is a great change. The music I intend to build is the part of the evolutionary changes."
He believes there are thousands of opportunities available in the market and one can earn his livelihood easily, but needs dedication and patience"
He is the person who introduced first famous Boy Band in India called  MJ5, also known as Majical 5, who won the title of India's Dancing Superstar. He has also produced music for the videos of Mj5 called Ziddi, Bawal was one of the big hits on YouTube with over & around 20 million+ views.
R. Nitish Kumar also Design and Execute the biggest concert and live shows for big artists like A.R. Rahman. He has also mixed Coke studio and MTV unplugged Songs for A.R. Rahman.
R. Nitish Kumar hasn't looked back since he started his musical journey. He regularly works with top most Artists of the country like Shreya Ghosal, A.R. Rahman, Neeti Mohan, Amit Trivedi, Jubin Nautiyal, and Darshan Raval.
Not just Bollywood industry he just recently jumped into Punjabi industry for the famous Punjabi singer "B. Praak"
He has also dubbed Arjit Singh, Sonu Nigam, Shreya Ghosal, Nakash Aziz, Sukhiwinder Singh, Udit Narayan.
"Rockstar" Movie was his biggest achievement of his life. Their team won lots of appreciation and awards for the same.
He has also done 5 Hollywood movies such as 127 hours, 100 feet journey, Million Dollar Arm, Couples retreat.
R. NITISH KUMAR added " In the realm of audio engineering, there are five specialized roles: recording engineer, mixing engineer, mastering engineer, live sound engineer, and multimedia sound engineer. Each has a distinct function to play in the music industry, and the path to each career is distinct as well.
A work in audio engineering impacts each part of the music industry, from capturing live sound to mixing music recordings to managing the technical aspects of audio equipment.
"A music producer's major duty is to provide artistic direction for a recording session, but an audio engineer's role is substantially different. Audio engineers can also be producers, but they must first grasp the principles of audio creation," he said.
While concluding he said, "In every field, people are facing problems, and most of them give up early, which is not good. If people will give everything to their passion, they will get good results sooner or later.
Check out his work at IMDB-https://m.imdb.com/name/nm5550071/filmotype/music_department?ref_=m_nmfm_1
Instagram – https://instagram.com/nitish_kk?igshid=YmMyMTA2M2Y=
Facebook – https://www.facebook.com/nitish.r.kumar.9
About Author